Order new Album now on Bandcamp!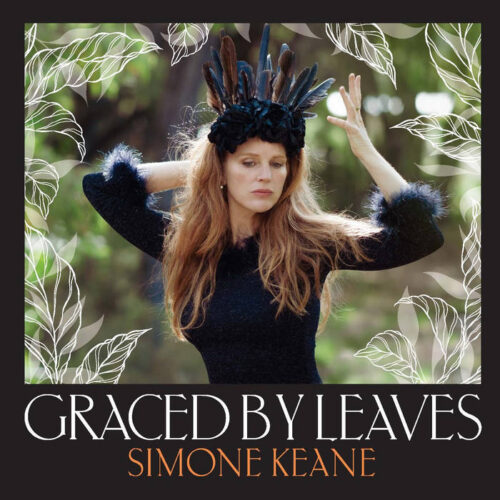 "Graced by Leaves"
Order Graced by Leaves now
---
Magical, mysterious songstress from Western Australia's deep south. Her fifth album, 'Graced by Leaves' made its ARIA Charts debut at No#6 in both AIR (Australian Independent Record Labels Association) and Best-selling Australian Albums in the first week of its release.
"Really beautiful stuff."  (Tamara Szep Rockin' the Roots RTRFM)
Dual WAM Song of the Year awards. "A first for a regional artist."  (WAM)
"She transforms traumatic experiences into something beautiful, transporting listeners to a place of integrity and hope." (Giles Watson author, poet)
Simone Keane's original songs defy the dark night of the soul. Her sound has a timeless, classic mystique, drawing on influences including Stevie Nicks, Mazzy Star, Katie Melua and Gillian Welche. She is inspired by the lush country where she lives – the deep south of Western Australia known for its stunning beaches, tall trees, whales and wildflowers. "There is a dramatic tension here. Drama and beauty live side by side. I try to focus on the beauty these days" says Keane.
Keane's personal journey has not been easy due to trauma-related stress. Her musical aspirations were recognised early in her career winning two WAM Song of the Year Awards after a total of five nominations from her album Burning. Not long after, she retreated from the spotlight for some personal healing after realising she had not given herself time to process the effects of intimate partner violence. Keane found the energy to record two albums in the safety of a local studio run by Mick Crannage, Whale Breathing, a 2016 collaboration with poet Giles Watson, and Wild Thingz, 2018. "No matter what has happened to me throughout my life, I am now compelled to weave it into a moving melody. That's how I levitate above that shit – I write songs, sing my little heart out." (Simone Keane)
Keane was invited to support Ash Grunwald during his 2023 tour after the Covid lockdowns. Nervously, she accepted the opportunity and has not looked back. "It was great. I felt safe and supported. They had fresh sliced ginger and green tea backstage. No shannaanigans. I had a blast!"
With fresh confidence Keane has released her fifth studio album, produced by Lee Buddle (Crank Recording – Kelly Clarkson, Justin Bieber, Gurrumul Yunupingu, Rose Parker) which promises to leave listeners spellbound.
Graced by Leaves is a concept album of sorts, "for those who dare immerse themselves in a reciprocal experience that lasts more than three minutes."
"It's about trees, both literal and metaphorical, as symbols of birth and death, as witnesses to our joy and pain, as sacrifices in a material world," says Keane.
"It's a return to self, an escape into the woods, away from the tornado of shit whirling around, trying to drain us of our compassion and love for what beauty there is left in the world."
Her new album features dual Grammy Award pedal steel guitarist Lucky Oceans, Bronton Ainsworth on drums, Ben Franz (The Waifs) and Phil Waldron on bass, Marie Limondin on violin, Rosco Dwyer on lead/slide guitar, Phil Richardson on keys, Kiersten Fage on cello. Producer Lee Buddle injects magical, bird-like flute into two tracks, Kicking up the Leaves and Ancient Paths. Guest cellist Kevin Gillam features on the haunting My Wicker Burial and opening track Those Beautiful Times. Violinist Ellie Honeybone joins Marie Limondin in graceful stringed harmonies for epic country blues hymn Birds.
Kicking up the Leaves, the first single off the 11 track album is a rhythmic haunting chant about escaping trauma, into a mysterious forest where leaves and birds hear dark secrets – words that cannot be spoken in the human world.
The single's mysterious animation music video was created by UK's Marry Waterson, a musician and film creator from the Waterson/Carthy folk dynasty. "It was as if Marry was inside my brain. I only gave her a short brief about the song and she created something other-wordly. My photographer Warren Lilford filmed me singing in front of a green screen in WA. We sent the footage to the UK for Marry to weave her magic around."
The title track Graced by Leaves is a deeply moving ode to those we have loved and lost. A favourite childhood tree is chopped down which becomes a symbol of dear ones who have passed away. Exquisitely performed and produced, it features Lucky Oceans on Pedal Steel Guitar, Phil Richardson on grand piano, Marie Limondin on violin, Bronton Ainsworth on drums, Ben Franz on bass and Kiersten Fage on haunting cello. Keane's soaring harmonies in the song's bridge are not unlike a 'choir of angels', honouring the deep grief of losing someone dear. "Gives me chills." (Producer Lee Buddle)
Previous album titles:
Burning
Wild Thingz
Moon Tunes
Whale Breathing (colab with Giles Watson)
Downloads online at https://simonekeane.bandcamp.com/