West Australian Music Industry Song of the Year winner in TWO categories. Five Nominations.                    
 "A first for a regional artist"  Nigel Bird  WAM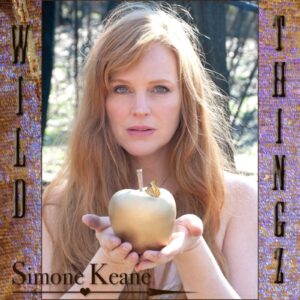 Simone Keane's timeless tunes capture a wide listening audience. Her recent material, produced by Michael Crannage (Stick Music) showcases her love of folk, country, pop, jazz and blues, and absorbs influences from her Celtic ancestry.  Her latest release WILD THINGZ  features some of WA Southcoast's finest musicians including Ellie Honeybone and Marie Limondin on violin, Kiersten Fage on cello, Gemma Kiiveri and Andre Maujean on keys, Brody Manson on double bass and Lauchlan Gillet and Alan McLean on drums.  Producer and multi instrumentalist, Mick Crannage features playing wild west electric guitar with flavours of David Lynch's Twin Peaks style music.
In 2016, she collaborated with writer Giles Watson on Whale Breathing.  "I first heard Simone's music online when I'd just arrived in Australia.  I was instantly inspired, not only by the exquisite melodic quality of her voice, but also by its emotional clarity.  Her music lends itself beautifully to weaving stories and the expression of feeling."  (Giles Watson). Whale Breathing features Kiersten Fage on cello, Charlie McCarthy on violin and Tim Turnbull on lead guitar.  All proceeds from its sale go to Sea Shepherd.
In 2010 she released Burning, which she co-produced with Lez Karski (Bondi Cigars).  The album features her WAM SOTY award winning songs, 'Burning' and 'Rag Doll'.  An impressive lineup of musicians play on the album including Andrew Clermont on five string violin, Lez Karski on lead guitar, Andrew Sumner on keys, Bronton Ainsworth on drums, Tim Turnbull on bass guitar, Evan Holmes on saxophone, Ashleigh Evans on cello and Bob Lipinski on harmonica.  It was recorded and mixed by Kim Lofts and mastered by Lee Buddle (Crank).
Moon Tunes was released in 2007, a haunting works recorded by Kim Lofts in an art gallery inside the Vancouver Arts Centre, chosen for its natural reverb.  The EP features Denmark-based violinist Marie Limondin, and lead guitarist Lez Karski who also produced the EP after discovering Simone at a musician's residency in 2006. One of the tracks, 'Life's Ocean' was adopted by award winning author Dianne Wolfer, as a soundtrack to her novel Lighthouse Girl.
Keane's musical background lies in theatre. "I love escaping into the world of performance, but one day song writing took a hold of me and became less of an escape and more of an exploration of self expression and identity.  Songwriting is how I attempt to make sense of the world.  It soothes me and hopefully soothes others as well."
Her song 'A Wise Man', nominated in the WAM SOTY Jazz category, was chosen as one of the tracks on Songs for the Beeliar Wetlands Volume 1, a fundraiser that helped put a halt to the construction of a highway through an endangered species habitat in Perth, WA.
Influences include Leonard Cohen, Kate Bush, Billie Holiday, Katie Melua and Melody Gardot.
Downloads online at https://simonekeane.bandcamp.com/